LendingTree ranks Royal United Mortgage as the #1 Home Lender in Customer Satisfaction 6 quarters in a row.
May 03, 2023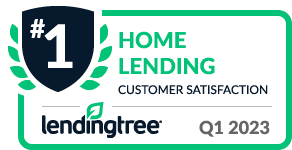 INDIANAPOLIS, INDIANA 5/1/2023 –  LendingTree®, the nation's leading online loan marketplace, named Indianapolis-based company Royal United Mortgage LLC NMLS #13390 as the #1 Home Lender, across the country, in Customer Satisfaction for Q1 of 2023.  This marks the sixth consecutive quarter LendingTree has named Royal United Mortgage LLC as the top lender for Customer Satisfaction. Based on verified customer reviews, this list features the top lenders across the entire LendingTree network.
"We are proud to be named the #1 Lender for Customer Satisfaction with LendingTree for six consecutive quarters.  In many industries, expense reductions in these economic times have resulted in a poor customer experience.  Every team member at Royal United takes great pride in how they impact the customer experience.  They take what can be a difficult process and make it fast, secure, and SIMPLE!  This award is a testament to team members and to our customers who continue to challenge us and make us better with their actionable feedback." said Gabe Allen, CEO.
Having been named a Top 10 home lender consistently since 2014 and ranked as the #1 home lender in customer satisfaction during all four quarters in 2022 is a huge honor. "Knowing that there are countless options regarding where to go to obtain a mortgage, we are humbled that so many hard-working Americans have chosen Royal United to help them achieve their financial goals.  Our promise is to continue to provide great service and customer education to make the home buying or refinance process as easy as possible. This award is only possible because our incredible loan advisors and amazing operations team members take great pride in providing a first-class experience and being the reason customers choose us." said Gabe Allen, CEO.
Lender rankings for this award are based on a weighted average of overall rating and the total volume of customer reviews for mortgage, personal, auto, and home equity loans. Lenders were rated on offered rates, fees, closing costs, responsiveness, customer service, and overall customer experience. LendingTree provides consumers access to more than 500 lenders across the country. LendingTree's network of lenders provides a variety of loan products, including home loans, personal loans, credit cards, student loans, business loans, home equity loans/lines of credit, auto loans, and more. To learn more about our lenders, visit http://www.lendingtree.com/mortgage-lenders.
Looking for more information?
Simply reach out and we can help.